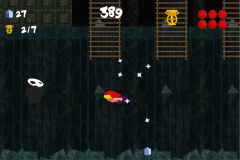 Three new games have been added to The Daily Click for you to enjoy:
A 10-level demo of Flight of the Blazing Sparrow Hawk, an action game by Indigo Steel Shield with crystal destroying goodness.
Elder Mage, an RPG by MinkoedZamorVedro about very old mage whose village was attacked by.
Temple of Magic (pictured right), an adventure game by Ishmaru where you find the seven magic chalices and unlock the gates to Eden.