The Misadventures of Michael
Author:
VictorCozac
Submitted:
27th June, 2023
Favourites:
0
Genre:
Action
Downloads:
37
Rated:




Edited By Joshtek on 02/07/2023

Edited By Joshtek on 02/07/2023

The Misadventures of Michael is FNaF Fan Game I made with my dad back in late 2014. It was probably one of the first FNaF Fan Games. It's mostly a 1:1 recreation of FNaF 1, but with it's more of a text adventure, kinda like Zork. Mechanics are mostly unchanged from the original game, but you have to type in stuff to do actions (E.g. Close/Open Left/Right Door, Turn On/Off Tablet). It has all 6 nights and Custom Night. The game is actually pretty fun! There are some tense moments like Foxy running down the hall and you have to quickly type in "Close the left door". There's still Golden Freddy, and of course the ever-popular jumpscares.

The game was started in Klik & Play, I had the licence for it bought by my dad in the 90s haha, then, eventually I also found out we had Click and Create, so I moved over to that one and finished the game. I never released the game though, so I slowly but surely started forgetting about it. Recently, I found an old USB stick in an old laptop, and I found the .cca file for the game and an .exe that crashed start of frame. I took the .cca and loaded it into Clickteam Fusion 2.5+, made some minor changes and a fixed a few game-breaking bugs and recompiled the game. 99% of the game was left unchanged though, so you're sure to get a experience. My dad and I had fun making this game, my mom also "play-tested" the game. We hope you'll have fun playing this game!

TL;DR: This is an old FNaF Fan Game made in late 2014 I recently recovered from an old USB stick. It's pretty much FNaF 1 but it uses text instead of pre-rendered graphics. So, you manually have to type in the action you want to do (E.g. Close/Open Left/Right Door, Turn On/Off Tablet). Have fun!

*whispers: There are also cheat codes! Press 5 on the main menu and you'll be taken to a screen where you can input codes. "A few weeks later" unlocks all stars and "I'm a cat" replenishes all of your lives.*



Review This Download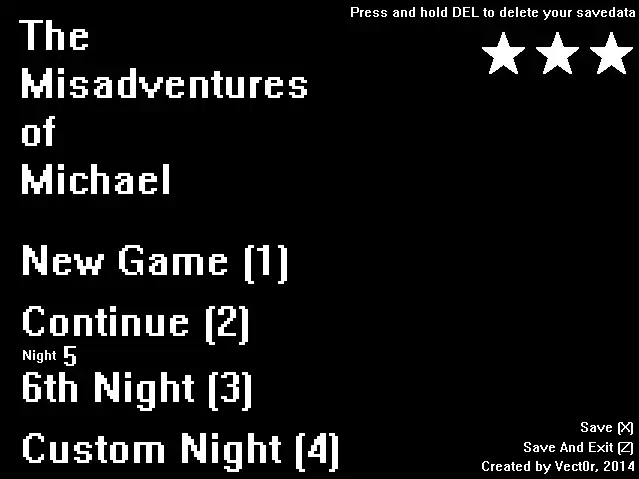 https://kliktopia.org/downloads/The%20Misadventures%20of%20Michael%20%28Vect0r%29.zip (1,31 mmb )



No comments have been posted for this download.

VictorCozac

Registered
27/06/2023 22:52:12
Points
100
Is this worth a look? Let others know!

Favourite