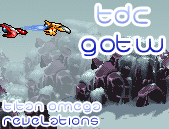 Little surprise this week, with the now former klikker Jay White's rather pretty shooter Titan Omega Revelations capturing the GOTW award. Good stuff. Now, this week has been the quietest in TDC's history. The Hand Game is the only game that officially qualifies for GOTW, because its the only one that either has screenshots or isn't a demo. So instead of handing next weeks GOTW to this game, I've broken the rules and picked out the closest thing I can call a rival - The Strawberry Field. Vote carefully!

Click here to download the GOTW

This weeks entrants - The Hand Game and The Strawberry Field. Yup, that's it.

Eventful Moments Of This Past Week:

AndyUK releasing a rather cool engine test of Buzz The Squirrel 2. Not totally a stupid move ;)
Jay White quitting the community for various (and personal) reasons... not necessarily due to the flack that Titan Omega Revelations got
Autoshop making a fan game based on Zelda: Four Swords... and its called... Zelda: Two Swords. Aha! Ahahaha... oh... he was being serious...
Jason Orme showing us his new game in the works: Shadow Of The Stick, which is, more or less, a 2D version of Manhunt - with stick figures. Cool!