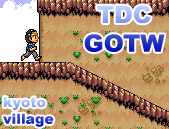 Kyoto Village is this weeks winner of GOTW; congratulations to Hishnak. As you can see from the screenshot it looks absolutely gorgeous and plays nicely too; it deserved its victory, and totally obliterated every other vote in the poll!

Click here to download the GOTW

This weeks entrants - Paintball War, Galaxy Lander, Cyber Knights 1.01, and Timmy Battle Online.

Another administrator will be updating the GOTW next Saturday, as I will be attending the Click Convention held in Bourne End, and probably won't get home until very late in the day. Expect a report once again from me, but hopefully others will have their own versions. Anyone who submits a report could be in line for some extra DC Points, which are worth such a lot!