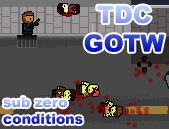 I've reset this weeks GOTW poll to allow Santasm to enter, on Rikus' orders. Sorry to those who have already voted. Anyway, the 150th winner of the GOTW award is Sub Zero Conditions, created by Willy (Monkey Business) and has received its well deserved positive comments.

Click here to download the GOTW

This weeks entrants - Trade Wars Revolution, Zombie Massacre, Java 2, Santasm, and Magikoopa Rebel.

It's never too early for Circy Claus. For him, Christmas is every day of the year.