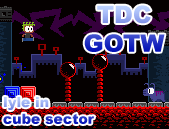 Rather predicably, Lyle In Cube Sector scored this weeks GOTW poll. In fact, it didn't just score, it picked up the goalposts and danced around laughing madly. Congratulations to Bogo47!

Click here to download the GOTW

This weeks entrants - Random Cartoon Generator, Across, The Shaft, and Paddle Pixel.

Quick information post regarding the Christmas competition. Wong and I have judged our entries, we're still waiting for everyone else (but I think they're nearly done). Expect the results soon.