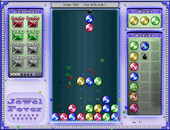 Kisguri has uploaded a rather decent Columns style game bearing the name of Jewel Fever. It's effectively the full game, with all the features unlocked - but you only get to play for sessions of 20 minutes unless you pay for the full version.

Comments from the Author:
"Get ready for Feverish and frenzied Puzzle Action in "Jewel Fever" Rotate the Jewels as they fall into place, Connect three or more in a row to clear them away! As you progress watch for new Jewels to be introduced that effect the Board in one way or another!"