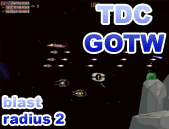 The sequel to Blast Radius - imaginatively entitled Blast Radius 2, by CsaR and DaDDe, has won this weeks GOTW. Congratulations guys.

Click here to download the GOTW

This weeks entrants - Vector X 2006, Strika Fighter, Worm Hole DX, and Trade Wars 2.

Not too much to choose from, but if you will submit nothing, then nothing will enter the GOTW... mmmkay?!