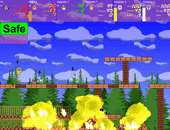 Well, we admins have been quite lazy recently, with the exception of Mr Newton, who's probably off on honeymoon with his new wife. Anyway, to make up for it, here is a news post!

U.2 has uploaded a 2D platforming deathmatch for two players - or if you're a loner you can play against the very competent AI. The game is called Teddies Armageddon 2 and really should be getting more press than it currently is. Download it now.

Comments from the Author:Welcome to the year 2026. Armys march and destroy anything in sight. Life has gotten tuff, and people that survive hide and await to be killed. Join in with these battles and fight for your right to live!

Click here to download this game and read its reviews.