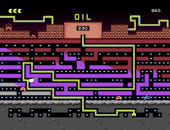 Like Pacman? Well you could like this (it's Pacman with a twist apparantly). Monkey Soft has uploaded a game called Tubopac. It looks suitably retro and rather good.

Comments from the Author:Tubopac is a remake of Oils Well (C64, Sierra On-Line, 1983, by Thomas J. Mitchell) created for Retro Remakes 2006 Competition. The gameplay is similar to Pacman, but with an important twist: you move an extending pipe which can quickly retract; you have to collect all oil pellets but you must keep the enemies from touching your tube.

Click here to download this game and read its reviews.

PS: I'm back, after three weeks of TDC suffering an illness known as "dodgyserveritis", of which it has now recovered from!