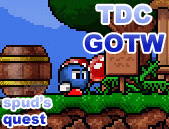 Spud's Quest, the Dizzy-a-like, is the definitive winner of this week's GOTW award. "Trick or Treat" and "WebWiz" were the only submissions that came anywhere near matching the number of votes it received. Congratulations to McDavis (ala Chris Davis).

Click here to download the GOTW

This weeks entrants - The DAILY CLICK 26 Minutes GAME MAKING COMPETITION , Sound Previewer, Swistakowy Klopot , and Emerald Challenge.