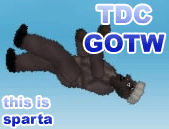 This Is Sparta is the victorious victor in this GOTW poll - congratulations to Ben Mercer for winning! Sadly, we're back down to two nominations for this week...

Click here to download the GOTW

This weeks entrants - Your Flex: How Are Your Reflexes, and M.O.O.N.

Come on people, let's see those games!