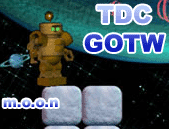 Shroomlock is this weeks winner of the GOTW poll with his game M.O.O.N. His was a dominant victory against the other candidate - congratulations!

Click here to download the GOTW

This weeks entrants - Alex Adventure, 2-Hour Game Compilation (5 Game Pack), Chalk, and Warp Drive.

Hurrah... more than two submissions this week! Let's keep things rolling, folks.