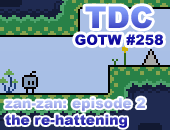 Zan-Zan: Episode 2, The Re-Hattening created by Ben "othy" (please God let this little craze die now) dominates the GOTW poll this week - and henceforth is this weeks GOTW. Nice work, chap.

Click here to download the GOTW

This weeks entrants - GOTW Generator, Picross Mania, Gem Fusion, Halloween Escape, Puzlox Blox 2 and Spacefest.