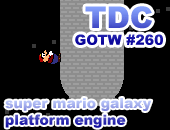 Pixelthief is this weeks winner of the GOTW award with his platform engine based on Super Mario Galaxy - cunningly titled Super Mario Galaxy-esque Platform Engine, but I couldn't fit the name in the GOTW image properly. Heh... anyway. Just two entries this week... the choice, as they say, is yours.

Click here to download the GOTW

This weeks entrants - Everyday is Halloween, and Behead.