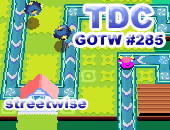 After yet another late GOTW, I can tell you that Adam wins this week, for his 20-event game Streetwise! Could it be named after a certain special someone? ;)

Click here to download the GOTW

This weeks entrants - The Moraff Trilogy, The Last Survivor, Directory Blaster, Flyes Flyer, and Crazy Little Elf 2.

This will be my last post by the way, for a while. I'll be off on holiday for a bit. Potentially though this could well be my last ever post as an admin because the motivation to run this site isn't really there anymore - partly because I feel that ALL the admins (including myself) could be putting more effort in, but aren't, due to various reasons and partly because personally, after nearly six years as an administrator (and yes that's a very long time really) maybe its time to move on. Maybe my break will give me some new motivation but to be honest I'm not overly optimistic at this stage.