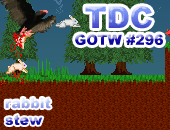 Seems like some people really are masochistic and are loving Rabbit Stew, created by KNPMASTER... as it was totally dominant during this weeks GOTW poll! Rabbits are cute and don't deserve this treatment. Bleh.

Click here to download the GOTW

This weeks entrants - Dragons, and Text Based FPS.

A very dry week in terms of submissions... where's your motivation people?!! Get game-making!