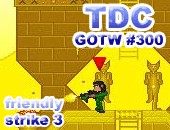 The 300th GOTW is now upon us... and I can reveal that Friendly Strike 3, created by TheCalimero, is this weeks GOTW winner! Commiserations to the other nominees, in particular to AndyUKs Lil Pirate which came up only slightly short.

Click here to download the GOTW

This weeks entrants - TextPad, knight, FS3 Arena Downloader, Prompt Critial (yes, I know it's not a click game), and Base Defender.

Good luck guys.