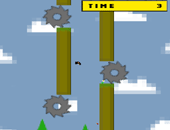 This little game stars quite possibly the worlds most incompetent ninja. A Tiny Ninja [who] Can't Swim, if you will. Created by Butterfingers, it's pretty challenging too and should keep you busy for a while. By the way, who went trick or treating last night?

Comments from the Author:
"Tiny Ninja Can't Swim is a rock-hard platformer where in each level you must try and reach your sensei. The game has 3 Stages each with 6 levels. Complete each set of 6 to unlock the next stage. Also features awards for perfect runs, and top times. "