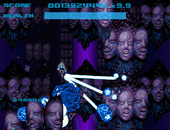 Neuro, creator of the fantastic Plasma Warrior and Paroxysm, is back with a new project, based interestingly enough, on a bands newly released music album. The game is called Level 2, and a small demo has been uploaded for everyone to try. It looks fantastic, yet rather crazy at the same time ;)

Comments from the Author:
"Level 2 is the video game to go along with Last Chance to Reason's newly released album of the same name. Each level of the game is a song from the album, and provided here is the first level, 'Upload Complete'. The rest of the game is still under construction. The game is a hybrid of platformer and arcade shoot-em-up, with events synchronized with the music. Blast your way through a digital world and shoot for a high score! "