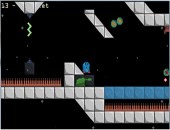 Game developer Furthing has been inactive from making games for a while, but has recently decided to begin a new lease of life, starting with this retro platformer called Mighty The Space Hamster. It's looking quite nice indeed.

Comments from the Author(s):
"Mighty the Space Hamster is a fairly simple retro style platformer with fourteen levels set in an illustrious world of pixilated space. Mighty must make his way back home and take glorious vengeance on the evil Mega Penguin. Gameplay is simple, guide Mighty through the hazards to get to his jetpack and purple sunglasses. Collect powerups to help him through his journey and collect secret coins to gain a higher score in the end. Also try to stay alive as much as possible to receive a higher survival score. "