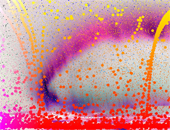 A extremely clever application has been submitted by Bricnic. It's called Procedural Art Generator. The idea behind this application is to create crazy, psychodelic backdrops with ease and has been criminally overlooked. It's really quite smart :)

Comments from the Author: Bring your favourite equations to life, or simply draw with a bit of controlled chaos- with the aid of this simple little app, you can churn out endless weird and wonderful creations.

The basic controls give you the ability to draw lots of dots at random with a given size, or you can draw directly on the canvas with the mouse (useful for producing shapes, or fixing up missed spots). You can also both export to and import from the clipboard, along with inverting the colours (watch out for those random sounds- hold down the button for even more fun!), and drawing spheres with random colours. If you are out of ideas / want to know how to write equations with some examples, just hit the ! buttons- these will give you random equations.