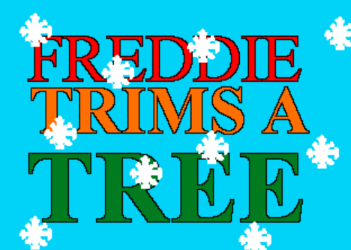 Christmas comes but once a year... which actually adds up to quite a lot of Christmases, really. We are now celebrating the 25th Christmas since Klik & Play was released in 1994, which means we have had quite a few Christmas-themed games made with Clickteam's tools.
One of the first Christmas games I ever played was Freddie Trims a Tree, a point and click adventure game which Philip Williams started working on in Christmas '95 and finished in Christmas '96. With permission of the author I have now ported this to Fusion 2.5 and added it to the Klik Museum. Description: "This is a Christmas game I made on Klik & Play. It is in the Sierra Adventure game style (Like Kings Quest, Space Quest, etc.). You're a Fox named Freddie. You walk from screen to screen finding objects and using them. The goal is to decorate a tree for Mrs. Wolfington."
As someone who used to share a computer with his siblings, free multiplayer games which could be played on a single PC were a real treat. Funny Furries 2 XMAS Edition is a 2-player platform-based beat-em-up game made in Click and Create by Bastiaan De Jong (BdJ Entertainment) in 1999 and my family definitely enjoyed this festive frenzy.
The Daily Click have run a number of Christmas competitions, and the first Christmas with Multimedia Fusion 2 brought us the 2006 classic Merry Gear Solid: Secret Santa, a fun action game created by Arthur Lee (Podunkian). Description: "Merry Gear Solid: Secret Santa is a top down stealth action game in the vein of Hideo Kojima's Metal Gear Solid series. It's grid-based as it was entered in the Daily Click Grid-Based X-mas game competition. Use distractions and tools you find around the level to distract and get past any guards that are you in your way. The game is relatively short, taking around 10-20 minutes to complete. The story is related to the Metal Gear Solid series' plot so if you haven't played those games, you might be kind of lost". Its sequel is Merry Gear Solid 2: The Ghosts of Christmas Past.
What's your favourite festive indie game? Did you get any click tools as a Christmas present? Join the discussion and have a MERRY CHRISTMAS!