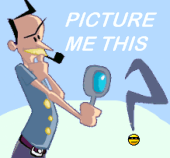 Head to the Competition Forum because I've brought back Picture Me This (starting at Round #41). Guess Click games based on scrambled screenshots before anyone else does to get a shiny TDC tag/badge! If nobody guesses it then increasingly descrambled versions will be posted.
Clickteam have announced a special free time-limited version of Clickteam Fusion 2.5 Standard to help make people's time staying inside a bit more enjoyable and creatively productive. You get the full CF2.5 experience (except the exporters) until the 1st of June 2020. Check out: https://www.clickteam.com/stuckinside for details.
Also, please share your thoughts on us running a Game of the Year competition (or competitions) for all of the great games submitted to TDC.