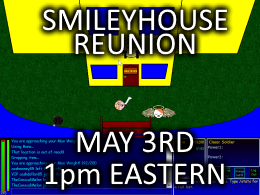 New relases made in Clickteam Fusion 2.5(+) submitted to TDC:

Hundreds of old Klik games releases have also been added to Kliktopia, including many originally submitted to The Daily Click which were contributed to the Kliktopia archive by TDC admin Chris Street.

And last, but not least, check out the SmileyHouse website for details on the SmileyHouse reunion on Sunday May 3rd, 2020 at 1pm Eastern. This include details on this classic Klik MMORPG which I helped develop along with Code6 as well as information on when the reunion will start in your time zone and how to join the SmileyHouse Discord. If you played the game back in the day you can even get your old account back. Unlike the 2019 SmileyHouse Reunion this one will have PvP enabled!

Update: The @DailyClick Twitter feed is now active again. Follow/re-tweet us to help spread the word!