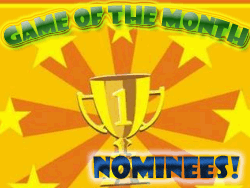 Remember Game of the Month from 2009? Well... it's back!
In alphabetical order, the games approved in April were the arcade games DualShot, Caffinated and StakeOut! as well as the puzzle game Star Slider. Check them all out and vote for your favourite!
Speaking of polls, our question of which classic video game franchise has the best music? has an answer, and it is Mario with 6 votes. Mega Man got 4 votes, Zelda, Final Fantasy and Donkey Kong all got 3 votes, Sonic got 2 votes and Castlevania, Metroid and Pokemon each got a vote. Banjo-Kazooie gets an honourable mention for gaining two write-in votes.
As one poll closes another one opens, and so now we want to know which of the big three modern gaming consoles is currently your favourite (based on a suggestion by The MPP). LET THE VOTINGS COMMENCE!