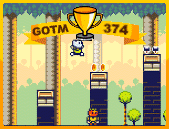 Well done to Hayo for getting Game of the Month #374 with the platform game Fishhead: Blueprint - Demo.
Two new platform games on The Daily Click are:
Meanwhile, Kliktopia has 94 additional games, bringing its collection to 2,055 games and applications. There has also been the launch of the Kliktopia Christmas games section. Is the list missing any classic Clickmas games? Let us know!
Finally, you can join the discussion on the forum on what you think are the best Click games of all time.