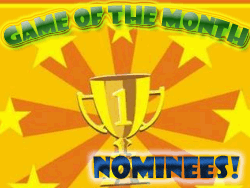 Time to vote for Game of the Moment #378 using the sidebar:
Hryak Legend, a Role Playing Game by MinkoedZamorVedro where you play you play as middle-aged Russians taking revenge on the evil flying metalloloma because he destroyed the Soviet Union.
Inoculation, an arcade game by MonadoBoy64 where you are vaccinating people.
Flappy Burger, an arcade game by BigAl0104 which provides a random and funny take on a classic game.
Eagle-eyed visitors will notice that there are more recent games on the Downloads page which are not featured. These will be promoted and featured in GOTM #379.
Based on a suggestion from The_Antisony on a TDC forum post we are encouraging people to play and review old Click games. A good place to start is the TDC's Click Museum and Kliktopia's recommended games list. If you have trouble playing the games then check out my article on playing old Click games on Windows 10. If you want to review a game which is not listed at The Daily Click then you can do so using an article - in many cases you will be able to link to a version of the game at Kliktopia.
Retro reviews will be featured in future news posts as well as interviews with old-school Click developers (e.g. to learn about what they are doing now and how their Click experiences have helped them with their career) or updates and retrospectives that people post to the articles section. So, ready to take a trip down memory lane?