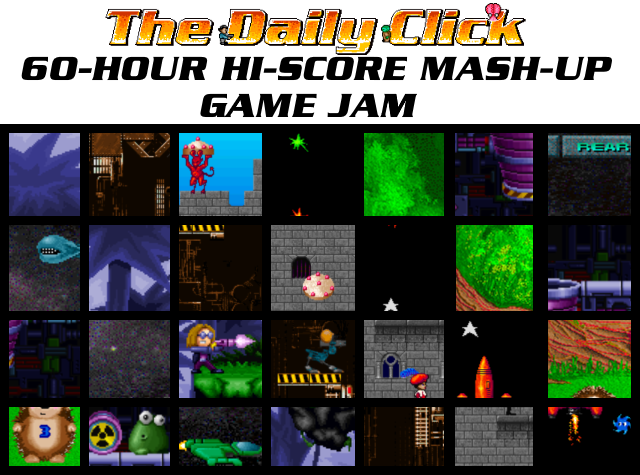 A weekend TDC game jam has begun. You have until 8 am on Monday 24th October GMT/UTC 11:59pm 20th November (GMT/UTC) to submit your entry, making this a 60-hour competition.
Hi-Score Mash-up Competition Rules:
The game must be made made in Multimedia Fusion 2, The Games Factory 2 or Clickteam Fusion 2.5.
The game will use hi-scores using the built-in hi-score object. I will subsequently make a build of the game which uses the Kliktopia online hi-score system which is currently in beta.
The game should be centred on one the games from Kliktopia's Clickteam Game Demo Collection (or a character from one of those games) but use a different genre to that game (e.g. if it is based on Zeb then it cannot be a shoot-em-up platform game). Graphics don't have to be original, so you can use graphics from the source game or library graphics. Bring in enemies and elements from other Click demo games for maximum mash-up fun!
Games will be ranked by msg and Joshtek based on their merits, taking into account gameplay, creativity and use of the theme.
The game itself should include a statement that it was made for The Daily Click's October 2022 Hi-Score Mash-up, state the names of the author(s) of the game and give credit to the original game and Clickteam.
Send me a DC Mail with a link to your competition entry before the deadline of 9am on Monday 24th October 2022 (UTDC/GMT). The DC mail should include (1) The Name of the Game, (2) The name of the Clickteam Demo Game you are using as your primary inspiration, and (3) Confirmation that I can publish the game on The Daily Click and Kliktopia.
If you have trouble hosting the game then you can upload it via the Kliktopia Uploader instead, but still send me a DC Mail.
Prize: DC Points and a recognition tag.