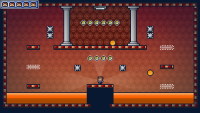 The Daily Click's Chris Street (AKA Circy of Circlesoft / Team Ultimate) has posted a free version of Zone Runner: Anniversary Edition (for the PC) to The Daily Click! To quote Chris:
"On 15th December 2002, at the time of writing this, my original Zone Runner game was released, making the game 20 years old! For those who don't know, Zone Runner was one of the games which inspired the "N" series by Metanet Software and also my first truly popular game.
To celebrate this milestone, I have decided to release Zone Runner: Anniversary Edition for PC on the exact 20th anniversary of the original game. This is an enhanced version of the Android game released in 2018, rather than a fully blown new release. However I wanted to open up the experience so more players could enjoy and attempt to beat the game.

In this platformer, the objective is to traverse five zones, collecting coins and avoiding contact with anything bad. Enemies cannot be killed, but you can!"
This game was finalised in Clickteam Fusion 2.5. If you want to make your own games but don't yet have this software, then the good news is that Clickteam are currently offering a 65% discount for CF2.5 over on their itch.io store.
Also, keep an eye out for our month-long winter competition which I will be announcing very soon!