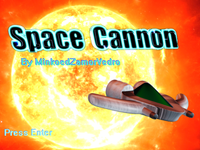 I've asked a certain artificial intelligence to celebrate the release of a new shoot-em-up by MinkoedZamorVedro with a short little poem:
In the depths of space, where silence reigns supreme,
A battle rages on, like none you've ever seen.
Welcome to Space Cannons 3D, where you'll fight to survive,
Choose your level, buy your weapons, and get ready to thrive.
Bullets, lasers, and plasma balls are at your command,
As you dodge enemy fire and blast them off this land.
Lose a life, and your ship will explode in a flash,
But don't despair, you'll respawn and continue your clash.
In Space Cannons 3D, the fight is on, victory is near,
So gather your courage, pilot, and conquer your fear.
Click here to visit the download page for Space Cannon 3D.