We asked people what art style they prefer for indie games and the results are in: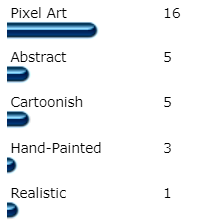 Perhaps unsurprisingly, more than half of TDC's users voted for Pixel Art. A third voted for either abstract or cartoonish, which got joint second. Still, some people preferred Hand-Painted and Realistic which shows that there is an audience for everything!
In other news, I asked on the Kliktopia Discord what poll to go with next and Wacku suggested we ask what Click tool people started with, some I'm going with that. This poll was run back in 2018 so I'll compare the results with the historic one to see how things have shifted.
Feel free to share in your comments your story of how you started Clicking!