Review: Santa's Christmas Cracker 2
| | |
| --- | --- |
| Author: | Hill Gigas |
| Added: | 31/12/2004 |
| Overall: | |
| Average: | 8/10 |

Santas Christmas Cracker is a fabulous little holiday puzzle game that should keep you occupied for quite a while if you enjoy this kind of thing. Its very similar to the bubble bobble games, so if you liked those, this game is for you.

You play as Santa, and you try to collect all of the gift boxes in each level. After you get "the goods", you proceed to the next level.

I've played this authors games before, and Ive always liked this sort of graphical style. Some people hate black outlines, but I think this game is twice as good as it would have been otherwise without the intense graphical style. Things are crisp, colorful and everything is great fun to look at.

The title screen could have used some work. This game deserved better.

Music and sound effects are well suited. It was fun playing the game to a holiday remix.

Gameplay was one of the best features in this game. The movement engine was very nice. Santas movement feels different at first, since he has kind of a slow launch into jumps, but you get used to this very quickly. After the first level I was settled into the control scheme just fine.

Lastability will depend on the player. Be warned, the difficulty level increased very quickly from level to level. By level 3, you'll be paying close attention. New enemies, traps, and level gimmicks are introduced in almost stage, so be prepared.

The game succeeds as a puzzle game maily because it is clean. Enemies have set patterns, control is solid, and if you take your time you can always plan ahead and find the solution. That is the key to any good puzzle game.

Very nice holiday distraction.


| | |
| --- | --- |
| Presentation: | |
| Gameplay: | |
| Graphics: | |
| Sound and Music: | |
| Lastability: | |
| Overall: | |

Download This Game
No comments have been posted for this review.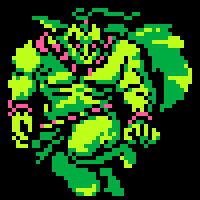 Hill Gigas
Reviewing Madman
Registered
07/06/2004
Points
257