Review: Unknown Game 7248
| | |
| --- | --- |
| Author: | Hill Gigas |
| Added: | 16/07/2008 |
| Overall: | |
| Average: | 9/10 |

Who would have thought that after struggling to gain my footing in Action Slip 2, that Action Slip 1 would come along and be such an engaging experience!

Action Slip is probably one of the best (if not THE best) klik shooters I've ever played. This is a fun, well rounded game that will keep you occupied for quite a while!

The gameplay in Action Slip is standard fare, use arrow keys to move your ship, and use your fire button to destroy everything that moves! This is a very player-friendly game. You have a life bar, and you get to keep your powerups until you die. The powerups you find will upgrade your lazer as well as upgrade your ship. It's a very simple setup, but it's also a lot of fun and very forgiving for new players.

The graphics in Action Slip are very impressive in my opinion. Even though most objects are simple, they are all very colorful and well drawn. The levels are fun to go through and you never get bored. There is always something fun to look at. I also enjoyed the variety of enemies and their different attack patterns. The weapon and explosion effects are also well done. I really felt like I was causing some damage, and that's what makes a game like this fun in the first place!

The music was a rocking tune that kept the action going. The music is exactly what a player wants to hear as he's causing so much destruction! Sound effects were also very fitting and suited the game well. You hear every explosion and fireball!

Lastability will be pretty high for fans of shooters like this. I'll probably play again after I write this review. This game has a lot going for it that keeps it interesting. The levels have some good variety in them, and it's fun to wait for that next powerup to see what you'll get. Bosses seem very difficult at first, but they have patterns that be learned like in any good shooter.

Overall, this is a VERY fun shooter that kept me occupied for quite a while. The levels are well done, the enemies are simple but creative, and the weapons always make you feel like your in control of the chaos. Having a lifebar also made this game seem very welcoming and gave me a little time to get used to it. This is a well rounded shooter, probably the best I've seen from a klik product. Recommended for any shooter fan!


| | |
| --- | --- |
| Presentation: | |
| Gameplay: | |
| Graphics: | |
| Sound and Music: | |
| Lastability: | |
| Overall: | |

Download This Game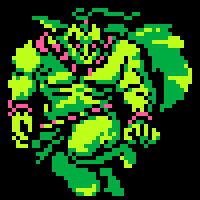 Hill Gigas
Reviewing Madman
Registered
07/06/2004
Points
257