Review: Super Avoider
| | |
| --- | --- |
| Author: | Rikus |
| Added: | 18/05/2009 |
| Overall: | |
| Average: | 7/10 |

Sometimes you want to immerse yourself into a world filled with huge story lines, action and drama and sit in front of your screen until the wee hours of the night just trying to get that extra item. However most of the time you just need your quick gaming fix and Super Avoider is perfect for that. With its crisp graphics and quick and fun menu you are playing this one in seconds.

The gameplay is pretty simple, there are 3 modes to choose from but I recommend you step right into the Super mode were you have to avoid everything that comes across your screen except for the stars that you can collect for points. Static mode is fun to were you have to learn in what place the enemies keep moving to. You control your character actually by your mouse and that changes the gameplay a bit since you have more control on how to move your character with the mouse then with the keyboard. Once you get a fell on how to move it is time to stay alive as long as you can by avoiding everything, the enemies that will come at you are pretty different in design and how they attack and this helps the game tons.

The graphics fit the game like a glove. Very well done, nice and crips the enemies and the animations they provide are spot on, I just wish there were more of it.

While I was avoiding the enemies I did not mind the music at all, its upbeat and very well made it complements the rest of the game.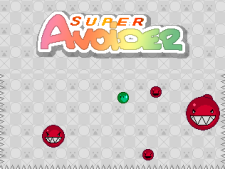 Screenshot 3



The problem with the game comes in that I wish there was a bit of structure to it. What I mean by this is that it would be great if there was a level mode were after you would survive a period of time you would move to the next level, with different enemies to avoid and maybe some different backgrounds to spice things up. This would keep you coming back for more. Right now however this is not the case and after sometime the game refers to a timed survival game.

A great game that unfortantly does not last as long as I wish it could have. The build in High Score system does help the game however to give it a much need "just one more try" feeling!


| | |
| --- | --- |
| Presentation: | |
| Gameplay: | |
| Graphics: | |
| Sound and Music: | |
| Lastability: | |
| Overall: | |

Download This Game
No comments have been posted for this review.

Rikus
Administrator
Crazy for News
Registered
02/12/2001
Points
498