Review: Flight of the Pumpkins
| | |
| --- | --- |
| Author: | Rikus |
| Added: | 05/11/2009 |
| Overall: | |
| Average: | 8/10 |

In Flight of the pumpkins created by knpmaster you control a angry pumpkin that needs to collect candy so he can be happy once again.


The game starts fairly simple as you can avoid spikes and enemies, once you collect all your candy you move to the next level. The thing I liked while playing is that you can create as I like to call them "Candy Combos" Once you start collecting Candy a happy meter starts to spell Happy Halloween. However if you take too long your happy meter will quickly go down. It is a fun addition to the level design.

I also really loved the music and sound effects in this game. The music really has a Halloween spooky vibe to it and does not obstruct the game play experience It's easy on the ears and never gets old. The same thing can be said about the sound effects.

I almost forgot to share that your pumpkin has wings and can fly! This makes reaching those higher to reach candies much easier to grab. While flying is fun there Is a small problem with how fast your pumpkin moves, I often wished as I was walking before I started my flying that the pumpkin simply moved Faster, the control could also be tightened just a bit more while flying since sometimes I lost control and fell into a enemies.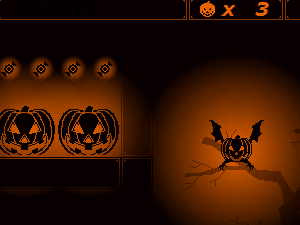 Screenshot 3



I am also afraid however that people will not give this game the time it deserves. Another drawback is that the game looks very similar between levels. It would have been great if you could have visited more different places and background with your hero. However the game really starts to pick up after a couple of levels and the first Levels are more of a way to introduce you to the game. If you stick with this, you are going to find a great and strong thing. Best thing, the game has A online scoring system, this makes you want to come back to the game since you want to compete with all the other pumpkins out there.

Overall Flight of the pumpkins is a solid gameplay experience that if you stick with it will shine even more!


| | |
| --- | --- |
| Presentation: | |
| Gameplay: | |
| Graphics: | |
| Sound and Music: | |
| Lastability: | |
| Overall: | |

Download This Game

Rikus
Administrator
Crazy for News
Registered
02/12/2001
Points
1000500