Aleena's Adventure
Author:
frankodragon
Submitted:
30th July, 2008
Favourites:
0
Genre:
Adventure
Downloads:
84
Rated:




Edited By frankodragon on 7/30/2008

Edited By frankodragon on 7/30/2008

Based on the main characters of my graphic novels of wingless dragons, "Adventures in Vastia", "Aleena's Adventure" takes place after the first game I ever made, "Franko's Quest." (That game is way too large in file size to upload.)

Story- The Soldier Dog Leader and his son, Zarc, decide to dragon-nap Franko and fly away in their air-ship. Aleena decides to chase after the two Soldier Dogs even if it means running to the ends of the world. You play as Aleena traveling to strange parts of the world. There are around 30 levels.

Controls- Arrow Keys to move left/right. UP ARROW key to talk to villagers. SHIFT key to jump. CTRL key to (ahem) poot on your enemies whenever you come in contact with a cabbage.
The black number is your Life Counter or HP (15 MAX). If you run into enemies, the meter drops. If the meter falls to zero (0), you'll begin at the beginning of the the stage you died on. You'll also start the stage over if you fall into a pit or water. Be sure to talk to the villagers. Some of them can restore your HP.

Cabbage Power- The Green number below-whenever you eat a cabbge, it counts down from 10. During that limited time, you can fart your enemies besides stomping on them. Some enemies cannot be stomped on-but gas can.


The two buttons, 'LP'and 'SP', are temporary Load and Save position in-level features. For instance, you may press the 'SP' button to save your position in mid-level. Then if you run into an enemy, instead of starting over, press the 'LP' button to restart at the position saved. NOTE- Use this feature wisely. You CANNOT save a position in one level and load in another! You may also press 'Z' to LOAD and 'X' to SAVE.

Dragon Save Statues- At the start of each level, a dragon save statue will be visible. To save on the level, just pass by the statue. This feature will allow to restart the game on the last level that was saved. NOTE- Unlike the temporary load/save features, any level that was saved by passing a save statue, the level will start at the beginning of that level.


The game is geared towards younger players but anyone can enjoy the game. The graphics aren't great but they aren't ripped. The music is also composed by me as well. A FULL version contains the game itself, with arcade mini-games, and a full color graphic novel. That version is for sale.

I have no plans to update this game since I'm already working on a third title.



Review This Download



http://www.mediafire.com/?z2cdnybtmmy (56.09 mkb )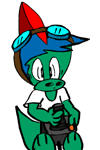 frankodragon

Registered
30/07/2008
Points
253
Is this worth a look? Let others know!

Favourite