Zarc's Bizarre Journey Home
Author:
frankodragon
Submitted:
31st May, 2009
Favourites:
0
Genre:
Adventure
Downloads:
61
Rated:




Edited By frankodragon on 7/14/2009

Edited By frankodragon on 6/11/2009

View the trailer at http://www.youtube.com/watch?v=qOo-cC6zeWo

Zarc is an evil little dog whom he has to get home after his Dad got into a hot-air balloon and flew away leaving Zarc to head on foot. Now Zarc is in a strange valley with good characters and those much badder than himself.

Zarc has to journey the land in order to open gates. These prevent him from going further and some big shot monster has the key. But there is more than just opening gates and obtaining keys; why are there a numerous amount of evil pigs roaming around countryside, and who's behind this scheme?

Now before you say this a Zelda ripoff, think again. Instead of rescuing princesses and collecting loot, you just want get the heck out of there! While the game has an adventure aspect it's also a shooter as well. You must shoot to survive but beware of the villagers-the ones that move their legs and blink their eyes a lot.

To control Zarc, use arrow keys for direction, Shift key to shoot blue magic bones, "A" key to save and "Z" to load. You may also use a joypad to control and shoot but there is an issue whenever using the Superball powerup.

Features
Large World to explore.
Creepy caves and Labyrinths.
Grunt noises when shooting enemies.
Original composed music.
Save and Load anywhere on overworld map feature.
Plenty of characters to interact.
Interesting powerups.


7-zip needed to extract the files.

Update: Here's the password for the extra quest. Now the game is totally freeware. Enjoy! Password: VC1507QM4PU



Review This Download




http://www.mediafire.com/?gmdelmzkzyg (62.21mb )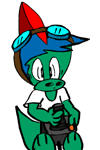 frankodragon

Registered
30/07/2008
Points
253
Is this worth a look? Let others know!

Favourite