Digger (WIP - beta test)
Author:
Matthew Wiese
Submitted:
17th July, 2009
Favourites:
0
Genre:
Demo
Downloads:
59
Rated:




--Digger is in the works--
-Name is not final-

~~~~~~~

Digger is a game in which you dig through blocks within the level to trap enemies and to find a exit. I dug the old fossil up from my hard drive and worked a bit with it. I want to know what everyone thinks about it, and if the idea is good. Yes, I know, my graphics suck, but I can't draw that well on the computer.

~~~~~~~

Controls:

W - jump (Note: you can double jump)
A + D - move
G - dig
R- restart game

Instructions:

You must find a way to the exit, and in the case of this demo, pull a lever to lower a shielding door so it's possible to exit the level. The brown blocks are destructible as they are dirt, the gray ones are metal, and your shovel is not strong enough to break them yet. The small round-ish enemies are Wiblets. (Wiblet for one) They are native creatures that inhabit the mines your miner is trapped in. They have very small pricks all over their skin, which are nearly invisible. That is why if you touch one you lose a life, as they are barbed and can tear clothing and flesh. Your objective is to pull the lever (by touching it) and to get to the "W" pipe to ride an elavator to get closer to the surface.

~~~~~~~

Critique and suggestions are extremely appreciated!

Take care
Matt



Review This Download


http://www.mediafire.com/download.php?qyhmqv2ymtm (443.59 kb )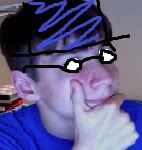 Matthew Wiese
The Fencer
Registered
01/02/2009
Points
149


Is this worth a look? Let others know!

Favourite