Libble
Author:
Matthew Wiese
Submitted:
10th November, 2009
Favourites:
0
Genre:
Arcade
Downloads:
38
Rated:




For Open Source Month!

Hey all! I made this game so I can contribute to Open Source Month. I know I've been away for a while, so I'm sorry about that. This is my first game in a while.

In Libble you control a little guy (called Libble) and you try to collect fruit. You almost must avoid rotten black fruit. You must collect red and blue fruit to increase your score. Here are the controls:

A+D: Move left and right
Left click: Destroy red fruit + 1 point
Right click: Destroy blue fruit + 1 point

If Libble is liked enough, I may add more to it. The game doesn't currently have highscores, either game-side or online. (Because I don't know how to) But if I get enough encouragement, I might be willing to learn, or have some help me.

Oh and my birthday was on the 6th!



~ Matt



Review This Download




http://www.mediafire.com/download.php?kmgzmd1ewit (370.86 kb )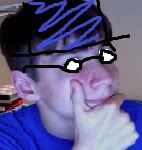 Matthew Wiese
The Fencer
Registered
01/02/2009
Points
149


Is this worth a look? Let others know!

Favourite