Ruby A RWBY Fangame
Author:
Ishmaru
Submitted:
14th December, 2021
Favourites:
0
Genre:
Beat 'Em Up
Downloads:
70
Rated:




Edited By Ishmaru on 28/07/2022

Edited By Joshtek on 28/07/2022

Summary:

An alternative story based on Rooster Teeth's web series RWBY.
Ruby And Wiess travel the world to save Remnant from GRIMM and other evils.

Feel free to join my discord for this and my other game projects: https://discord.gg/Gz2PBR5SqG

Story:

So Its an AU where there is no Salem/OZ war, Grimm are a force of nature, and after team RWBY successfully graduated as Huntsman(no Fall of Beacon), but shortly after end up going their separate ways. Weiss returns to Atlas to take up her reins at the SDC, Yang travels with her fiancÚ Blake as Blake takes a bigger role in Faunus and Human politics and a counter White Fang movement. And Ruby wanders Anima being the huntsmen as she always dreamed. After a few months playing hero solo though, she's missing the close friendships and moments she had with WBY and JNPR and she is re-evaluating her life choices. After a lot of begging she convinces Weiss to take time away from work, to go on a hunt. That's the backstory. The game itself focuses on Ruby And Weiss relationship post beacon and is more a collection of events that happens to the duo.

Default Controls:
A & D Move
S Block/Dodge/Reflect
W Revive Weiss
Q Switch Ammo Types
H Light Attack
J Heavy Attack
K Shoot
L Semblance (Quick Move)

You can string together various attacks to make powerful combos each with their own tactical use.

For Example H,H,H,H is a fast short range combo & an additional H will have Ruby dash behind the enemy ready to start another combo.

H,H,J,H Links 2 power attacks in quick succession, slightly slower but more effective at breaking guards.

H,H,J,J Adds an additional twirl building momentum, increasing damage for final strike.

H,H,H,J Fast Triple Strike Followed by a Lunge attack. Good for hitting enemies further back from target.

H,J,J,J Hit, Dodge, Lunge, Power attack spinning weapon to increase damage in final strike.

H,J,H,H Hit, Dodge, Lunge then throwing weapon like a boomerang.

H,K,H Ruby fires her gun behind her, propelling her forward at high speed. Then Striking enemy with a slash using the momentum from the previous shot. Great for hitting a line of enemies or quickly closing distance to target. Can follow up with a multi-hit spin attack, or a High power piercing attack.

ETC,ETC way more combos to discover Feel free to experiment in the Control Mode. You can also change button mapping there.

There is also a system where certain enemies are weak or strong vs different attack types/dust elements. Read Grimm Notes to learn more.

Current version v1.0.0 Released!

Game contains:
Story Mode
Events & Dialogue
Free Missions
Customizable Crescent Rose
Combat mechanics inspired by the show
35 Waves to survive in Arcade Mode,
Multiple Locations across Remnant
16 Unique Enemies:

Beowolf,
Alpha Beowolf,
Balrog,
Slug,
Slug Hive,
Lancer,
Geist,
Nevermore,
Nevermore Mini,
Atlas Paladin Mech (possessed by Geist),
Deathstalker (mini),
Deathstalker (large),
Ak 150,
Cinder, Neo, & Roman as a reoccurring enemy huntsmen.



Review This Download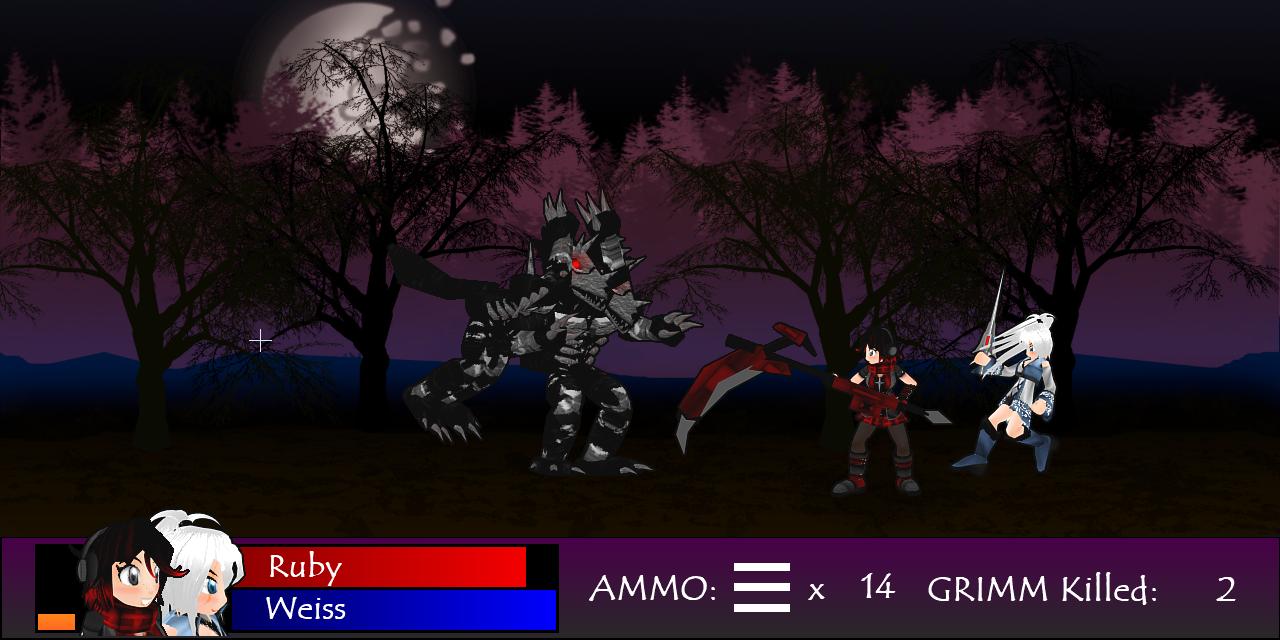 https://ishmaru.itch.io/rwby (24 mkb )



No comments have been posted for this download.

Ishmaru

Registered
25/05/2021 15:48:38
Points
300
Is this worth a look? Let others know!

Favourite