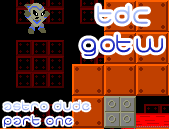 This week, Astro Dude - Part one has won the Game of the Week award! Essentially a Megaman clone, this game has recieved many positive comments.

Click here to download the GOTW

This weeks contenders for GOTW are Sonic DIY Demo, Stack Online, Novuxa Harvest, Superfrog Clone and Tinmen Brown Lite

Izzy Wizzy, lets get clicky!