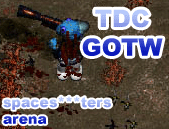 I wonder how many klik games win GOTW based entirely on their names? Billy Bob The Cactus Blob, anyone? And possibly this game too? SpaceS***ters Arena, created by Patrice Cervellin, has won GOTW this time, despite some mixed reactions. Still, well done...

Click here to download the GOTW

This weeks entrants - Neopong, Robotron Blitz, Bubble Master 2, and Stupid Ape. Definately a better selection than last week; make sure you actually take the time to download the game if you want to vote... don't just pick a random game! Also, please state if your game is actually a DEMO. I've had to remove Cactus Bruce And The Corporate Monkeys because the author never stated that it was a demo.

Eventful Moments Of This Past Week:

Actually, this has been a very quiet week. One account was allegedly hacked into, so it was deleted.
After an absence of quite a while, Alex Filipowski returns with a new preview called Elven Warfare. It's a strategy game, and seems to be quite ambitious... lets hope Alex can pull it off ;)
Wong started what was doomed to be the most failed attempt at a game of Mornington Crescent ever.
Umm...
Guess that's it...
Yup. It really has been an uneventful week here...