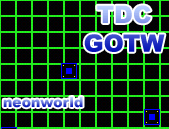 Neonworld is the proud winner of GOTW this time! Created by Spiderhead, it was initially an online game for Newklear - before Spiderhead left. Still, it got your vote, out of two potential contenders :D

Click here to download the GOTW

This weeks entrants - Zoot, Clouds Kingdom 2, and Cannon Belly Man: Werewolf Defence. Hey, don't complain, at least you get one more choice this week ;)

Eventful Moments Of This Past Week:

Rikus! You old dog, you! As mentioned earlier, a little baby Kras is currently in the stages of being created... His wife is due in April, lets hope things work out for them all :)
The Daily Click Christmas Competition 2004 is in its early stages. Despite controversy over the fastloop, several people seem to be wanting to enter. Check the forums for details.
ihatebrandon signed up to TDC and tried to convince klikkers to hate BrandonC Interesting test, but sharp eyes by Shab detected that he and BrandonC were one and the same ;) Maybe an experiment to see if klikkers talk behind his back? Who knows...