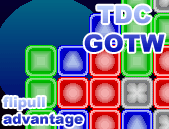 After two very shoddy looking GOTW images the last couple of weeks (hehe), things are now returning back to normal. Lots of stuff was submitted over the Christmas and New Year period, and each time I wasn't available to update GOTW, so thanks to both Wong and Shab for filling in. Regarding the Christmas Competition results, judging is still commencing, but I promise you that the results will be up as soon as possible.

Anyway, moving on: The winner of GOTW #117 is Flipull Advantage, created by Johns Program - he who stopped working on Lil Wizard... the berk ;)

Click here to download the GOTW

This weeks entrants - BeaverBoy and the Lost Kilt 2, The Doors, and Farmer Joe Vs. The Alien Invasion. Choose well, Little Mortals.