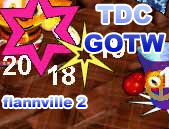 Flannville 2 absolutely pulverised the competition to win this weeks GOTW award. So congratulations to Shroomlock for his hard work, which paid off nicely! This weeks entrants, however, have a fight on their hands, as all are well crafted beauties in their own right. Pick wisely, klikkers!

Click here to download the GOTW

This weeks entrants - Kinesis, sLiNgShOt, Wandering Fighter, Diamond 4, Airstrike, and Paper Scissors Stone.

PS: After over two (count 'em) years of having a nice sightly brown as my font text, I've now decided to switch over to a purpley-blue. Have fun!