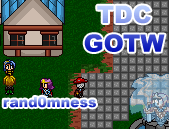 An entrant for Shab's RPG competition has won GOTW. Rand0mness, created by Snerlin, received nearly double the votes on its nearest rival Burger Meister. Good work, soldier.

Click here to download the GOTW

This weeks entrants - Halo Pocket, Grayscale Image-To-Text Converter, Strange Dream, Monster Trainer 2, and Only In Your Memories.

One more GOTW to go, and then I'm off on holiday for a while, so some other admin genius (not Shab XD) will have to do GOTW without bodging it up (sorry Shab XD)...