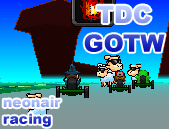 Neonair Racing is this weeks GOTW, created by Snerlin. Congratulations! For those who are unaware, this is one of, if not the first Mode7 racers in the community.

Click here to download the GOTW

This weeks entrants - Pined Pine Mania, Ninja Assault, and Boulderdodge 2.

Well, I'm back. From a wonderful, peaceful, relaxed holiday, to be welcomed back by absolutely nobody, and then continuing the rather depressing chore of running GOTW. Again. Lazy, smelly admins.