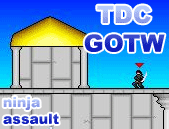 The game that just scraped victory for GOTW this week is Ninja Assault, by Hop. Congratulations!

Click here to download the GOTW

This weeks entrants - FigureWorld : Figure Wars Part 1, Pseudopods, Spiderhead, and X Creature.

Sorry that the GOTW is a day late; The Daily Click wouldn't work for me yesterday. This weeks GOTW will still end next Saturday however, so you've got six days to get voting!