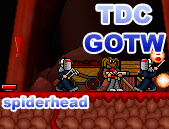 It was fairly obvious which game would win the GOTW award this week; congratulations to Blackgaze for his cool shooter Spiderhead. Blackgaze should be very pleased with himself, especially when you consider his game totally decimated the rest of the poll, gathering more than triple the total number of votes as the other three games.

Click here to download the GOTW

This weeks entrants - Super Mario: Blue Twilight DX, Retro Invaders, and Browser (Special Edition).

Yes, you see right, there's a Nuklear game in the GOTW! I personally think Browser is, although a bit crude, fairly fun to play and it deserves a chance to win next weeks GOTW. Good luck to all three entrants.

PS: Next Saturday is the deadline for the Convention competition. If you haven't already signed up and want to go, look down!